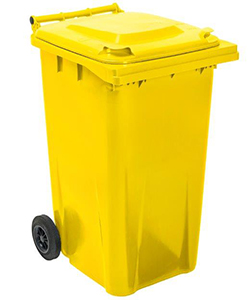 Clinical waste includes
swabs and wound dressings/bandages contaminated with infectious or hazardous substances
wound vacuum drains or pumps
If you require this service, we will provide a yellow wheelie bin for safe and secure storage of the orange or yellow clinical waste sacks. Do not put black waste bags in this bin. Once you have requested this service, collections will continue on a fortnightly basis until you contact us to cancel the service.
Make sure
the yellow bin is out on the boundary of the property by 6am on collection day
the yellow bin is visible and accessible for the collection crew
all sacks within the bin are securely tied and are only yellow or orange waste sacks
Do not
use black sacks to contain your clinical waste
put loose waste in the yellow bin
put sharps in the yellow bin - use the Sharps bin
If you need to arrange clinical waste (yellow bin) collections complete the form below. Once the form has been submitted we will contact you within five working days.
Request a clinical waste (yellow bin) collection
If you have an existing yellow bin collection and it is no longer required please contact us by email refuse@runnymede.gov.uk or call 01932 838383.
Help us improve this website
Let us know if you find any spelling mistakes, inaccuracies or broken links by using this form. If you provide an email address we will only use it to provide an update if required.
To get in touch about a service we provide use the contact us form.
Did you find this page useful
Get in touch about recycling and waste
The quickest way to contact us is by using our online forms which are available 24 hours a day, 7 days a week. If you need to speak to us give us a call and talk to our Customer Services team who will be happy to help. Alternatively, you can email the service direct.