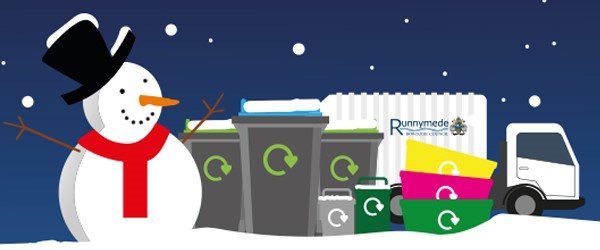 Our collection crews will be working on Saturday 31 December 2022 and Monday 2 January 2023
| Usual collection day | Revised collection day |
| --- | --- |
| Monday 26 December 2022 | Tuesday 27 December 2022 |
| Tuesday 27 December 2022 | Wednesday 28 December 2022 |
| Wednesday 28 December 2022 | Thursday 29 December 2022 |
| Thursday 29 December 2022 | Friday 30 December 2022 |
| Friday 30 december 2022 | Saturday 31 December 2022 |
| Monday 2 January 2023 | No change |
| Tuesday 3 January 2023 | No change |
| Wednesday 4 January 2023 | No change |
| Thursday 5 January 2023 | No change |
| Friday 6 January 2023 | No change |
If there is very cold weather during the Christmas break check our service disruption page for updates.
Cardboard boxes
Flatten boxes to give more space in your recycling bin.
Remove any polystyrene or bubble wrap and put it in your black bin.
Help us improve this website
Let us know if you find any spelling mistakes, inaccuracies or broken links by using this form. If you provide an email address we will only use it to provide an update if required.
To get in touch about a service we provide use the contact us form.
Did you find this page useful
Get in touch about recycling and waste
The quickest way to contact us is by using our online forms which are available 24 hours a day, 7 days a week. If you need to speak to us give us a call and talk to our Customer Services team who will be happy to help. Alternatively, you can email the service direct.