The Mayors biography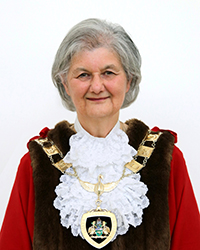 The Mayor of Runnymede for 2022-23 is Councillor Margaret Harnden.
Margaret was born in Thorpe and has lived there most of her life. She attended Egham Hythe Infants and Junior School and Sir William Perkins's School, Chertsey.
Her first employment was with Wilkinson Sword whilst studying part-time for a Higher National in Applied Physics. Margaret then gained L.Inst.P and Grad I.E.R.E qualifications whilst working at Cape Universal as a Research Physicist. Her last research position was with BP Exploration at Sunbury, where she met her husband, Pat. Margaret has also worked in the voluntary sector in various roles including the Probation Service, an animal charity and Adult Education. She undertook teaching qualifications and taught Literacy at Brooklands College and Strode's College, Egham.
Margaret became a member of Thorpe Ward Residents' Association, as she was keen to preserve the best of the local community she loved, eventually becoming chairman – and in 2008 was asked to stand in the local elections as an Independent candidate for Thorpe - the rest is history!
Margaret has served on various committees at RBC including Community Services, Environment & Sustainability, Licensing & Regulatory and Standards & Audits She has been appointed to numerous outside bodies, and with a particular interest in family and local history, is a Trustee of The Egham Museum and Surrey Museums Partnership.
St Mary's church, Thorpe has played an important part in Margaret's life, having been confirmed and married there, singing in the choir since a child, and now serving as a deputy warden. In her spare time Margaret also enjoys circle dancing and gardening together with her keen interest in improving accessibility issues for those with physical and/or mental health problems, and animal welfare.
Margaret's only sadness is that her husband Pat is not here to share in her mayoral year. Pat died in late 2020 from cancer but had been a huge support to her throughout her time as a councillor. Ian Patenall, Secretary of TWRA, together with Fr Gerard Mee, Assistant Curate at St Mary's have kindly offered to be her consorts and will accompany Margaret to her mayoral engagements. Fr Gerard Mee will also act as the Mayor's Chaplain.
Although Margaret loved her work in physics research, she found she really preferred working with people in the community and is looking forward to meeting and supporting a wide spectrum of people in the borough of Runnymede over the next year.
Margaret is hugely honoured to have been given this opportunity and during the year will be raising funds for her two chosen charities, The Orchard Dementia Centre, Chertsey and The Holme Farm Project at New Haw. Margaret's husband was able to attend the former during his illness, which made a huge difference to both their lives and she would like to raise funds so that others may be able to benefit from the vital service The Orchard provides for those with dementia and their carers.
The Holme Farm project, the vision of Ronnie and Christine Kendall, will provide a wildflower meadow, apiary, community allotments, café, crafting opportunities etc on a former derelict DEFRA site. One thing most have realised during the past two years living with the Covid virus is how important access to gardens and outside space is for our mental health. This ambitious project will provide a sanctuary for residents of all ages and abilities to enjoy and be involved with for many years to come.
Help us improve this website
Let us know if you find any spelling mistakes, inaccuracies or broken links by using this form. If you provide an email address we will only use it to provide an update if required.
To get in touch about a service we provide use the contact us form.
Did you find this page useful