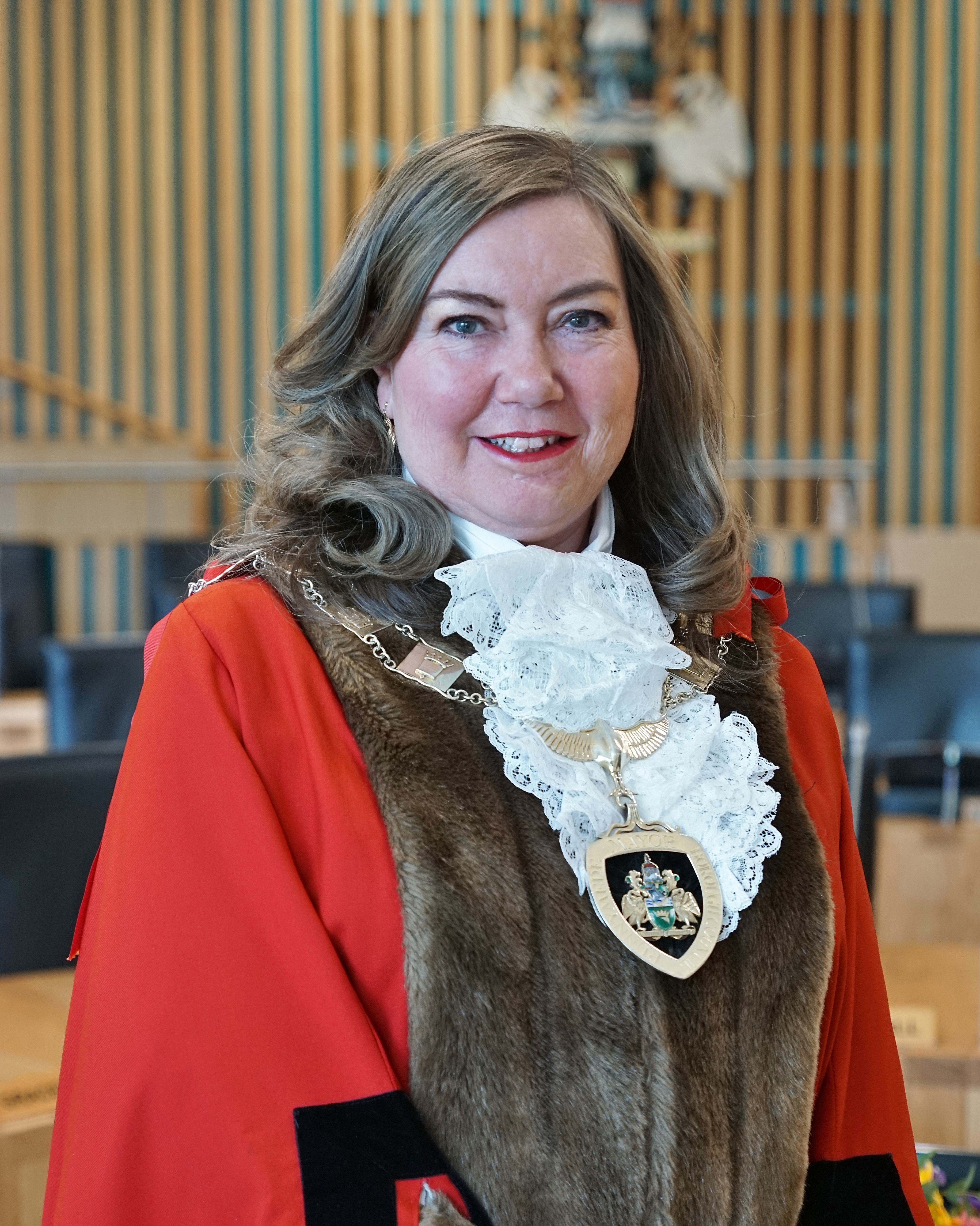 Pounding the pavements to meet as many local people as possible is the mission of Runnymede's new Mayor.
And after completing the London Marathon twice and walking the Great Wall of China, Cllr Shannon Saise-Marshall is ready for the challenge.
Councillor Saise-Marshall, who has also climbed to the Everest base camp, has become Runnymede's 46th Mayor. She follows in the footsteps of Cllr Margaret Harnden who passed on the ceremonial chains of office at our Annual Council meeting and Mayor Making ceremony on 17 May 2023.
Cllr Saise-Marshall was born to a private soldier and married an officer in the British Army, and she says her life has been service. Living in Chertsey for more than 30 years, she is the chairman at the Royal British Legion Addlestone, a member of the RBL Surrey county committee and represents Runnymede on the Surrey Military Board.
Cllr Saise-Marshall has been recognised for her efforts supporting the Armed Forces by the Commander British Forces in the Falkland Islands whilst living there 2016-18, and was the first civilian to be awarded such an honour. She organised and directed a Christmas Panto for over 500 personnel serving overseas and managed the Oasis Café, providing pastoral care and cakes to support over 1000 military and civilians in the South Atlantic.
Before moving to the Falkland Islands, Cllr Saise-Marshall was a councillor for Chertsey St Ann's ward 2012-2016, the vice-chair of housing committee and a member of standards and audit committee. She was the inaugural Armed Forces Champion at the Council.
Returning to the chamber in 2022 as a councillor for Chertsey Riverside ward, she sat on licensing, licensing subcommittee, regulatory committee, overview and scrutiny select committee and crime and disorder committee.
During the pandemic Cllr Saise-Marshall set up and organised the Addlestone volunteer service working alongside the Council to provide assistance to vulnerable residents. She was one of the first to volunteer at the vaccination centre in Chertsey, which was acknowledged by the Mayor of Runnymede in 2022.
Cllr Saise-Marshall was a school governor at Pyrcroft Grange Primary School, Chertsey 2012-16 and also a governor at Mount Pleasant School in Falkland Islands 2016-18. A qualified youth worker, Cllr Saise-Marshall has always taken an interest in young people's issues; this is reflected in her choices for fundraising during her mayoral year.
Cllr Saise-Marshall has supported many charities over the years and raised money for Breast Cancer UK, Dyslexia Action and the Felix Fund to name a few. In the 2012 London Olympics she was cast in the closing ceremony leading the Red Truck as 'Mum'.
Cllr Saise-Marshall is committed to serving the community and considers it to be a great privilege to represent the borough as the Mayor, and she is looking forward to meeting as many people, charities and good causes as possible.
Cllr Saise-Marshall said:
Runnymede is a great place to live with so much valuable history that we should all be proud of. I care about our community, which is a unique place to live with marvellous people and I'm constantly amazed by what we achieve together. However, there is still lots to do, and I'd love to hear from you, so let me know if I can help.
Cllr Saise-Marshall's charities for the Mayoral year are:
Addlestone Canoe Club
The club is run by volunteer members for the benefit of itself and the wider community. They would like to upskill their coaches, make a bursary fund for Ukrainian children, create a young person's sponsorship to compete in events and a hardship fund so they can really be accessible for all.
Hebrews Café
Located at St Paul's Church in Addlestone, the cafe is a PayAsYouFeel Coffee Shop with a goal to minimise the levels of wasted good food whilst providing free/affordable food to local residents. It also hopes to grow a sense of connectedness and participation within the community. Its kitchen requires an upgrade, and it would also like to create a proper outdoor area.
Cllr Saise-Marshall will also be assisted by Addlestone North ward member, Cllr Bromley who has been appointed as Deputy Mayor.
Request a visit from the Mayor or Deputy Mayor at your event or activity.
Help us improve this website
Let us know if you find any spelling mistakes, inaccuracies or broken links by using this form. If you provide an email address we will only use it to provide an update if required.
To get in touch about a service we provide use the general enquiries form.
Did you find this page useful