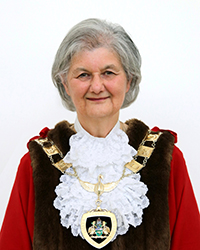 As my Mayoral term has reached its conclusion, I wanted to take the chance to look back on my year representing Runnymede.
I feel privileged to have been serving as Mayor during what has been a very memorable year full of such historical events, especially for the Royal Family.
The beginning of my term started off on a high with Her Majesty Queen Elizabeth II's Platinum Jubilee celebrations where the Borough was in great spirits and I was thrilled to be asked to attend many community events.
In September it was a more sombre occasion, when we were honoured to be back onboard Gloriana, the Queen's Rowbarge, to pay our respects to Her Majesty Queen Elizabeth II as the funeral cortège passed through Runnymede.
During this time I also had the great honour of attending the reading of the Proclamation of His Majesty King Charles III at Guildford Cathedral before reading it myself back in Runnymede. To round off my mayoral term I am once again privileged to have been Mayor during the Coronation of King Charles III and also invited to attend the Royal Garden Party at Buckingham Palace.
Visit our facebook page to view a gallery of photos from Cllr Harnden's year as Mayor of Runnymede.
During the past year I have attended or hosted 177 mayoral engagements which include litter picking, watching productions, church services, opening fetes, visiting schools and care homes, laying wreathes, as well as attending the amazing events that put Runnymede on the map, such as The Egham Royal Show, The Black Cherry Fair and the Chertsey Agricultural Show.
I also enjoyed meeting our town twinning friends from Bergisch Gladbach in Germany, both here in Runnymede for the late Queen's Platinum Jubilee and more recently the coronation of King Charles III. I visited Bergisch Gladbach at the end of March and am delighted that we have now forged such a strong connection with the town.
One of the highlights of the year was the launch of the Runnymede Civic Awards where I met and presented awards to some of the local people who are doing amazing things here in Runnymede.
I was also pleased to host a number of fund-raising events including a Charity Christmas Cabaret at TASIS, Afternoon Tea at RHUL and a Coronation Celebration event at Savill Garden. Although the total raised has not yet been finalised, all the funds raised will go towards for my chosen charities, The Holme Farm Project and the Orchard Dementia Centre.
Thank you to everyone who has supported me, I have had such an amazing year and will treasure the memories forever.
Help us improve this website
Let us know if you find any spelling mistakes, inaccuracies or broken links by using this form. If you provide an email address we will only use it to provide an update if required.
To get in touch about a service we provide use the general enquiries form.
Did you find this page useful