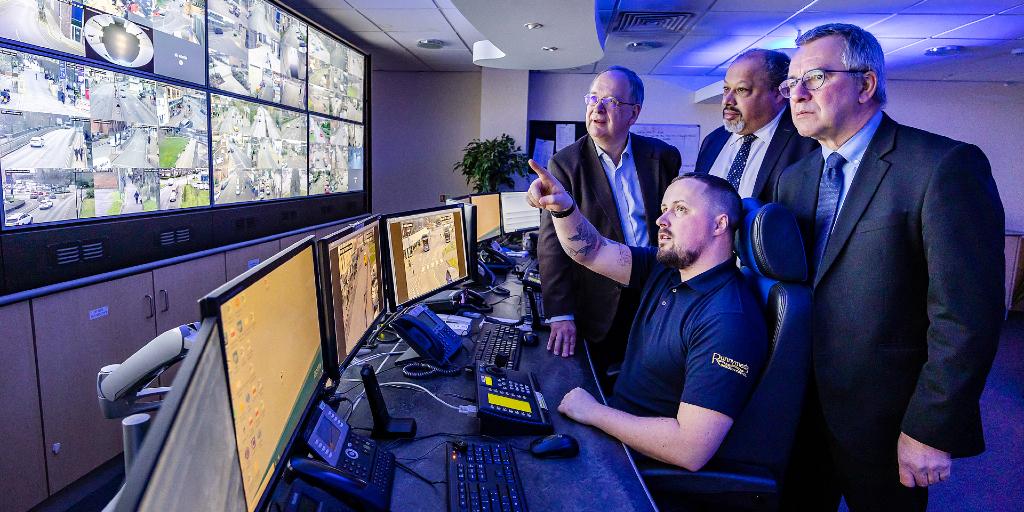 On top of keeping local people safe, Runnymede Borough Council's CCTV monitoring centre is expanding to work in partnership with two councils in Hampshire.
Runnymede's CCTV network and control room was established to protect people in the Borough by providing a 24/7 fully monitored camera network, with capacity included to scale up to support other partners. Other organisations already part of the 'family' include a neighbouring Surrey borough council, a local hospital trust, and a leading leisure venue.
They are now joined by Rushmoor Borough Council and Hart District Council in Hampshire. Whilst delivering services to other areas, these partnerships, and the income they generate, help reduce the overall cost of the service to Runnymede. Extra staff have been recruited to ensure the sustainability of this service to Runnymede residents.
Cllr Chris Howorth, Runnymede Borough Council's Chair of the Community Services Committee, said:
Runnymede's Council-run CCTV network has long been a centre of excellence. These new partnerships demonstrate our ability to offer value for money and scalability to support other councils and organisations across Surrey and beyond.

Our CCTV operation remains an essential tool in keeping residents safe and supporting the work of the police and NHS. Expanding into Hampshire brings in extra revenue for Runnymede, meaning our commitment to local people will be better resourced and stronger than ever.
Councillor Stuart Bailey, portfolio holder for community at Hart District Council, said:
The safety of Hart residents is a number one priority and CCTV is a powerful tool for combating crime and antisocial behaviour. Our move to Runnymede gives us the opportunity to improve and extend our coverage across the district with 24/7monitoring and recording across 41 cameras, together with out of hours of support for key services.
Councillor Maurice Sheehan, Cabinet member for Operational Services at Rushmoor Borough Council said:
We are delighted to be working in partnership with Runnymede Borough Council to keep our residents safe.

Our CCTV system has almost 70 cameras operating in our town centres, parks and car parks to help protect residents, reduce crime and promote public safety. The images from our cameras are transmitted to the Safer Runnymede Control Centre in Addlestone, which offers round-the-clock monitoring on our behalf. Our collaboration allows us to join a state-of-the-art control room, with cameras recording footage of Aldershot, Farnborough and North Camp 24 hours a day, seven days a week.

Our joint working also means that all calls will now be taken by the control room, freeing our duty officers to respond to urgent incidents.
As a result of the success of the CCTV monitoring centre several other organisations are currently in talks with senior staff at Runnymede. This could have potential for a CCTV hub covering wide areas of Surrey and neighbouring areas, through further collaboration and partnership working.
Runnymede's control centre plays a key role in supporting the deployment of Police resources, providing support at incidents, and securing key evidence. In addition, the Police are supported by the latest technology enabling the viewing of urgent recorded data from local neighbourhood police bases. Doing so saves time meaning officers can more quickly to get back out on the streets.
Runnymede's expertise in CCTV operations and system design and development, monitoring and maintenance, supported by its technical providers means our team can adapt to partners' needs and advise on how to improve or upgrade.
Cllr Howorth added:
I would like to welcome people in Hart and Rushmoor to our network, we're pleased to be able to provide you with the best service in our county and one I believe is among the finest in the South East.
Help us improve this website
Let us know if you find any spelling mistakes, inaccuracies or broken links by using this form. If you provide an email address we will only use it to provide an update if required.
To get in touch about a service we provide use the general enquiries form.
Did you find this page useful