The Runnymede Investment Standard clarifies the work we will do when delivering the capital works programme. This is the Council's commitment to investments in tenants'homes and the Borough's housing stock.
2022 - 23 aiming to install 225 kitchens/bathroom
2022 - 23 aiming to upgrading heating in 400 homes
2022 - 23 planning 100 electrical wiring updates
Summer 2022 we will begin the replacement of fire doors and flat doors in communal areas
Winter 2022 start roof and window renewals
Find out more in our housing repair section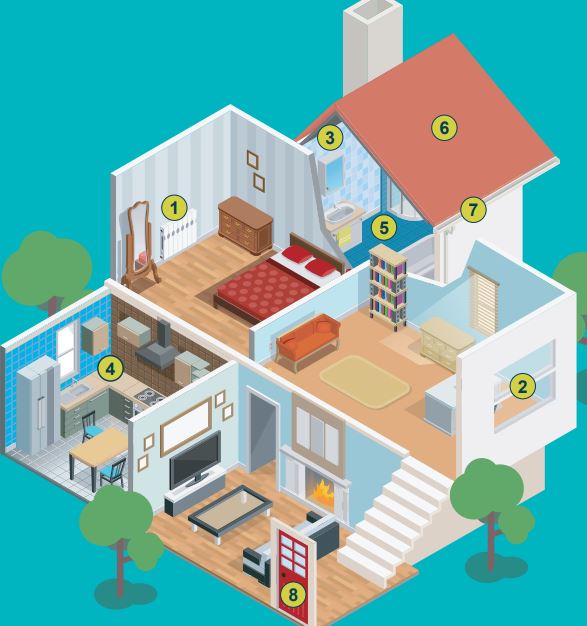 ---
1. Heating
Install combi boilers at an A energy efficiency rating (above 90% effective), with the addition of smart boiler controls to access and view energy consumption at the control of a mobile device
Thermostatic values fitted to radiators to give further heating comfort and greater control over which areas are heated, with a minimum five-year warranty on all installations
Aim to reduce the remaining life span of heating systems from the industry standard 15 years to 10 years
---
2. Doors and windows
Install composite front and rear doors, Secure by Design and in a range of colour choice
Install triple glazed windows units and aim to use the most up to date technology to further advance the life span of all glazed units and frames
---
3. Insultation
Upgrade loft insulation to a minimum 270mm glass wool when replacing either roof and or rainwater goods. If this is not practical, an alternative will be sourced in which the minimal depth can be obtained us in a more thermally insulated material.
Review the existing cavity wall insulation to ensure it is intact, effective and originally installed correctly, minimising "cold spots" as best and as reasonably practical.
In building where internal concrete ring beams exist, reduce mould and condensation problems with internal insulation.
---
4. Kitchens
Installed to a high standard, meeting the minimal Decent Homes standards for the number of units and electrical points.
A choice of cabinets colours externally, worktops to suit and a range of standard sized wall tiles.
Flooring will be anti-slip and also offered in a choice of colours and designs to suit.
New kitchen installations to include full redecoration with a chosen choice of colour.
---
5. Bathrooms
Installed to a high standard using a white suite and a choice of tiles and anti-slip floor covering.
New bathroom installation to include full decoration with appropriate paint and colour suitable for a high moisture area.
Extraction fans installed to aid the control of moisture and reduce condensation.
---
6. Roofs
Roofs replaced when they are defective and beyond economical repair taking into account the roof tile, felt and roof battens.
When replaced, the roof will be fully striped using a full height scaffold.
If existing tiles are in a good condition, a mixture of new and old will be used. If necessary, replacement with concrete tiles of best match.
Aim for vented verge tiles to aid in air flow and reduce moisture build up in loft areas.
---
7. Rainwater goods
All gutters, facias and soffits installed in UPVC and allow adequate ventilation to the loft area.
---
Electrical/door entry
Following a review and in consultation with leaseholders, door entry systems will be upgraded or installed to increase security and access for residents.

---
Help us improve this website
Let us know if you find any spelling mistakes, inaccuracies or broken links by using this form. If you provide an email address we will only use it to provide an update if required.
To get in touch about a service we provide use the general enquiries form.
Did you find this page useful