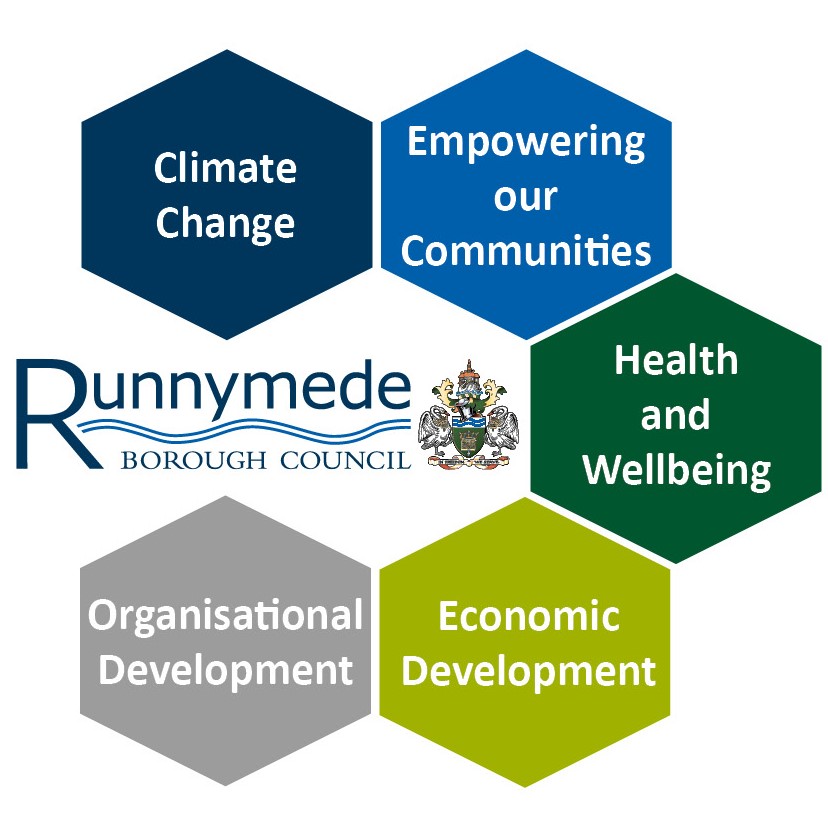 Responding to climate change takes centre stage in an ambitious new four year business plan launched by Runnymede Borough Council this week.
The Corporate Business Plan sets out our new vision for the Council and establishes five overarching themes for our work.
Our vision is to be a community leader, providing high quality services, enhancing the environment and advocating for our community's interests.
Writing in the introduction to the plan, Leader of the Council Tom Gracey said:
Our Corporate Business plan is underpinned by our aspirations for Runnymede; to be the best borough in the United Kingdom be that to study, work, visit or live.


Our residents recognise Runnymede as a great place to live where there are wonderful opportunities to develop your career, raise a family and enjoy a fantastic quality of life.


Our plan is focused around us making Runnymede a borough with cleaner, safer and accessible neighbourhoods, that has great community facilities, libraries and parks.


This plan is also centred on our commitment to combat climate change.
Direction of travel
Runnymede is a well-run, stable and structured local authority. This plan and its underpinning strategies create a direction of travel and strategic programme of work that is backed by councillors and senior staff.
While we will always deliver services we are required to provide by law like planning and collecting the bins, our new Corporate Business Plan sets out how we will add value to the lives of residents.
Responding to climate change plus supporting the health and wellbeing of our residents, their ability to effect change locally and the economic development of the Borough, together with organisational development are our themes for the next four years.
The plan sets out how Runnymede's finances are well managed and that there are good levels of reserves to deal with unexpected issues.
Cllr Gracey added:
Our plan also commits us to ensuring the best possible value for money, which is synonymous with Runnymede in Surrey, making every pound go further while providing high quality services for our residents.


Residents in the Borough have for many years paid the lowest Council Tax in Surrey and this will continue as the Council does everything it can to help local people deal with the cost of living crisis.
Read the Corporate Business Plan and its five supporting strategies
Help us improve this website
Let us know if you find any spelling mistakes, inaccuracies or broken links by using this form. If you provide an email address we will only use it to provide an update if required.
To get in touch about a service we provide use the general enquiries form.
Did you find this page useful