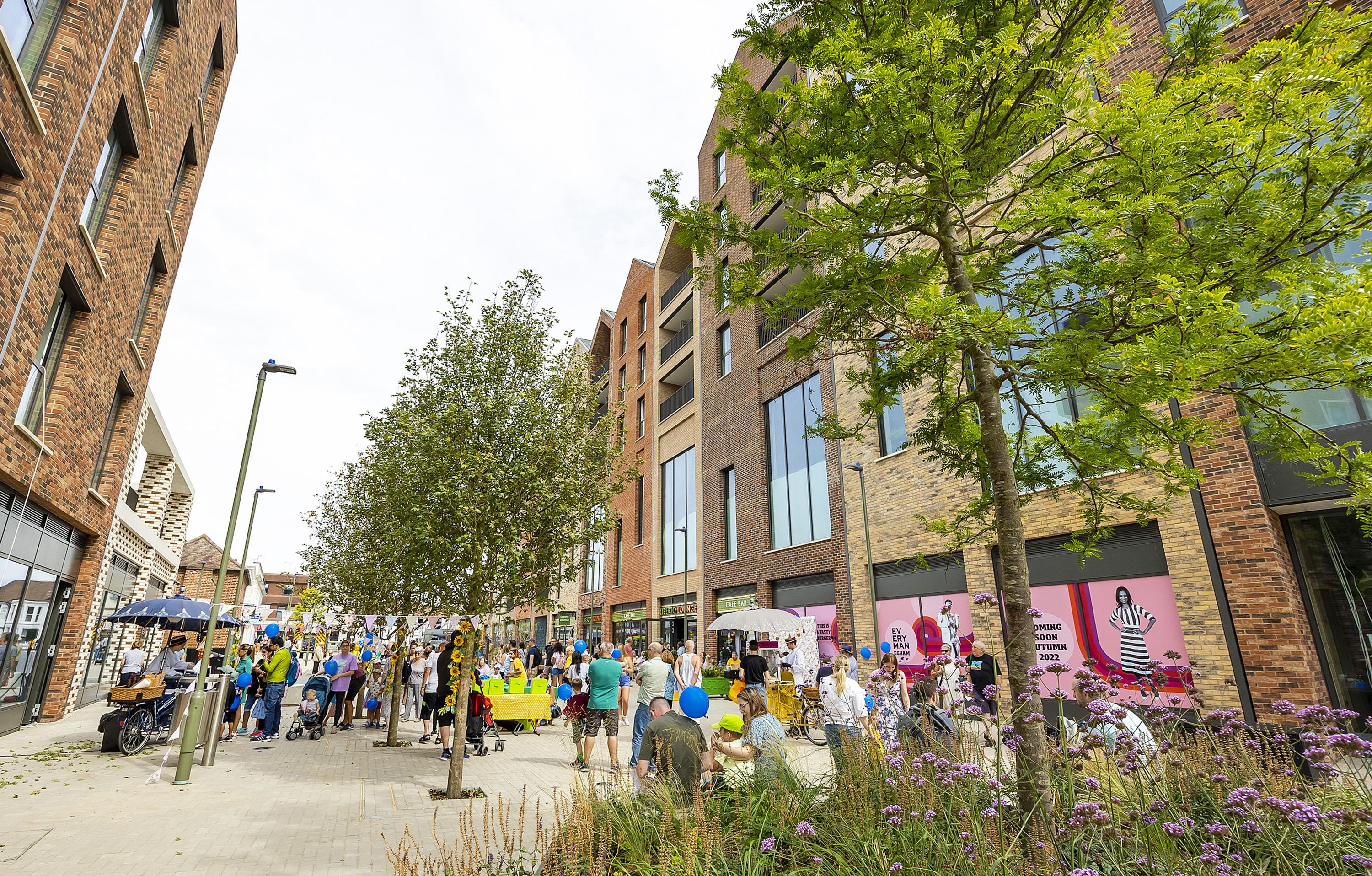 Egham's milestone Magna Square development has been shortlisted for a prominent property award, delivered as part of the Runnymede Borough Council and Places for People's regeneration partnership.
The £90m town centre development is officially open to the public following its completion in July, with the new town square bringing the community together.
Neighbourhood-café-bar Liberto Lounge, part of Loungers Plc, has already proved popular with residents.
Budgens is also providing local people with essentials 24/7, seven days a week. In the autumn Everyman Cinema is set to open its doors, with several other big names due to join the development.
The scheme has also created new homes for local people, providing 34 affordable flats, 67 apartments for private sale or rent, and 100 rooms for students at nearby Royal Holloway, University of London.
Cllr Tom Gracey, Leader of Runnymede Borough Council, said:
Magna Square was built in partnership with Places for People to benefit local people and improve the town centre environment, so it's great to see our work recognised for this by industry experts.


Since opening, the site has proved popular with the local community, with many people enjoying outdoor dining in the new town square thanks to recently opened Liberto Lounge.


With Budgens open 24/7, seven days a week and Everyman Cinema due to open in September, the development will attract visitors from near and far, bringing increased footfall into the area and supporting the local economy.


The development has also created new homes in Egham with many of the private apartments already sold or rented and all of the 34 affordable flats occupied.
Sammie Steele, Managing Director, Placemaking and Regeneration at Places for People added:
Magna Square making the shortlist is a clear testament to our partnership work in creating a quality scheme which has significantly improved the centre of Egham.


By building and designing a development that brings together homes, businesses and leisure facilities, we've been able to deliver a space that can be enjoyed by the local community, generate jobs and have a positive impact in the process.


We are delighted to have worked in partnership with Runnymede Borough Council on this milestone development and are grateful to all our contractors and colleagues who have helped to get this project over the finish line.
Magna Square scooped one of five spots of the shortlist for the Public and Private Partnership trophy at the prestigious EG Awards.
The category recognises the success of the public and private sector working together, in this case, the Council's work with regeneration company Places for People.
The development will compete against schemes in Manchester, Sheffield, and Brighton.
EG is as a leader in the property industry and produces well-read EG magazine, which highly regarded by those in the commercial real estate sector.
Winners will be selected by a panel of expert judges and will be announced at a ceremony held at the Grosvenor House Hotel, London, on 2 November 2022.
You can find out more about the development by visiting the website or following along on Instagram
Help us improve this website
Let us know if you find any spelling mistakes, inaccuracies or broken links by using this form. If you provide an email address we will only use it to provide an update if required.
To get in touch about a service we provide use the general enquiries form.
Did you find this page useful