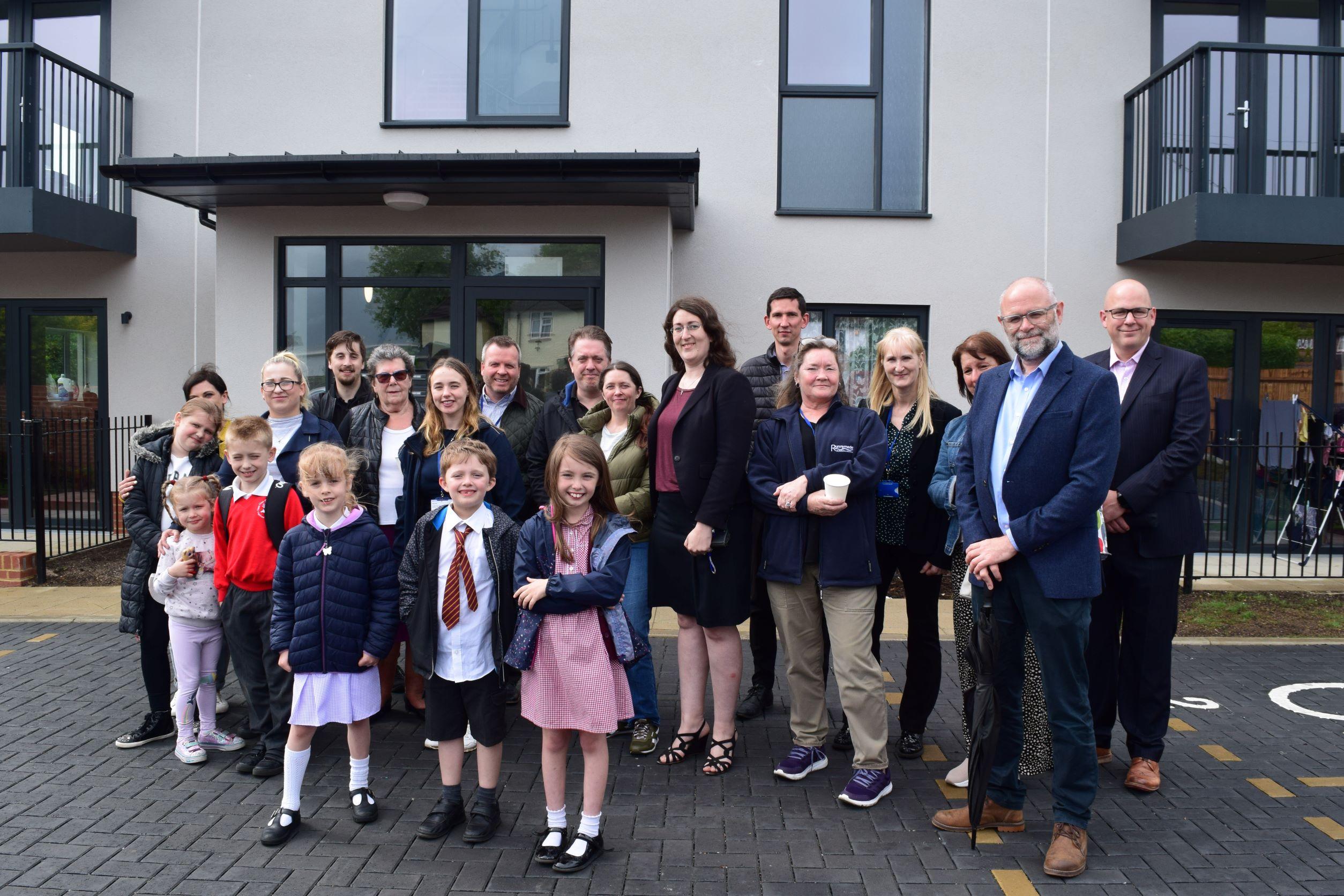 Nine families have just moved into 'wonderful' new social housing after Runnymede Borough Council completed the construction of new affordable homes in the heart of Addlestone.
Building new affordable homes to support local people has been one of the authority's key aims, with a target of delivering 125 additional Council-owned homes within the next five years. In St George's Road, the keys to the new apartments have been handed over and yesterday a welcome party was held.
St George's Road is close to Addlestone Town Centre, Victory Park, the train station, and bus stops. The apartments are being let at affordable rents to successful applicants from the Housing Register.
The new development offers off road parking and a shared garden.
Cllr Jacqui Gracey, Chair of Runnymede Borough Council's Housing Committee, said:
Quality secure housing is the foundation for better quality of life. These new properties will give nine households this security, allowing them to live at the heart of the Addlestone community, close to great places to both work and socialise. Built to be energy efficient they also meet our aims to reduce costs for residents and deliver on our environmental aims.


It was fantastic to hear what a difference these properties are already making to the lives of our tenants. I am proud that at Runnymede we are delivering on our commitment to provide both new and improved housing for even more local residents."
During the opening party, residents met the Council's Housing team, councillors and representatives from the developers Helix which built the homes. One parent, at the event with her two children, described her new home as 'wonderful' saying it was a lovely place to live and had meant her rent outlay was now much more manageable.
The Council is committed to providing sustainable and reasonably priced homes for local people. In late 2019 we opened a new build development of four apartments in Egham while in 2018, we completed 12 homes in Englefield Green. Most recently in Addlestone, five new apartments were completed in 2020.
The recent Magna Square development in Egham has provided 67 private apartments and 34 affordable homes, as well as 100 rooms for people studying at the nearby Royal Holloway, University of London.
Help us improve this website
Let us know if you find any spelling mistakes, inaccuracies or broken links by using this form. If you provide an email address we will only use it to provide an update if required.
To get in touch about a service we provide use the contact us form.