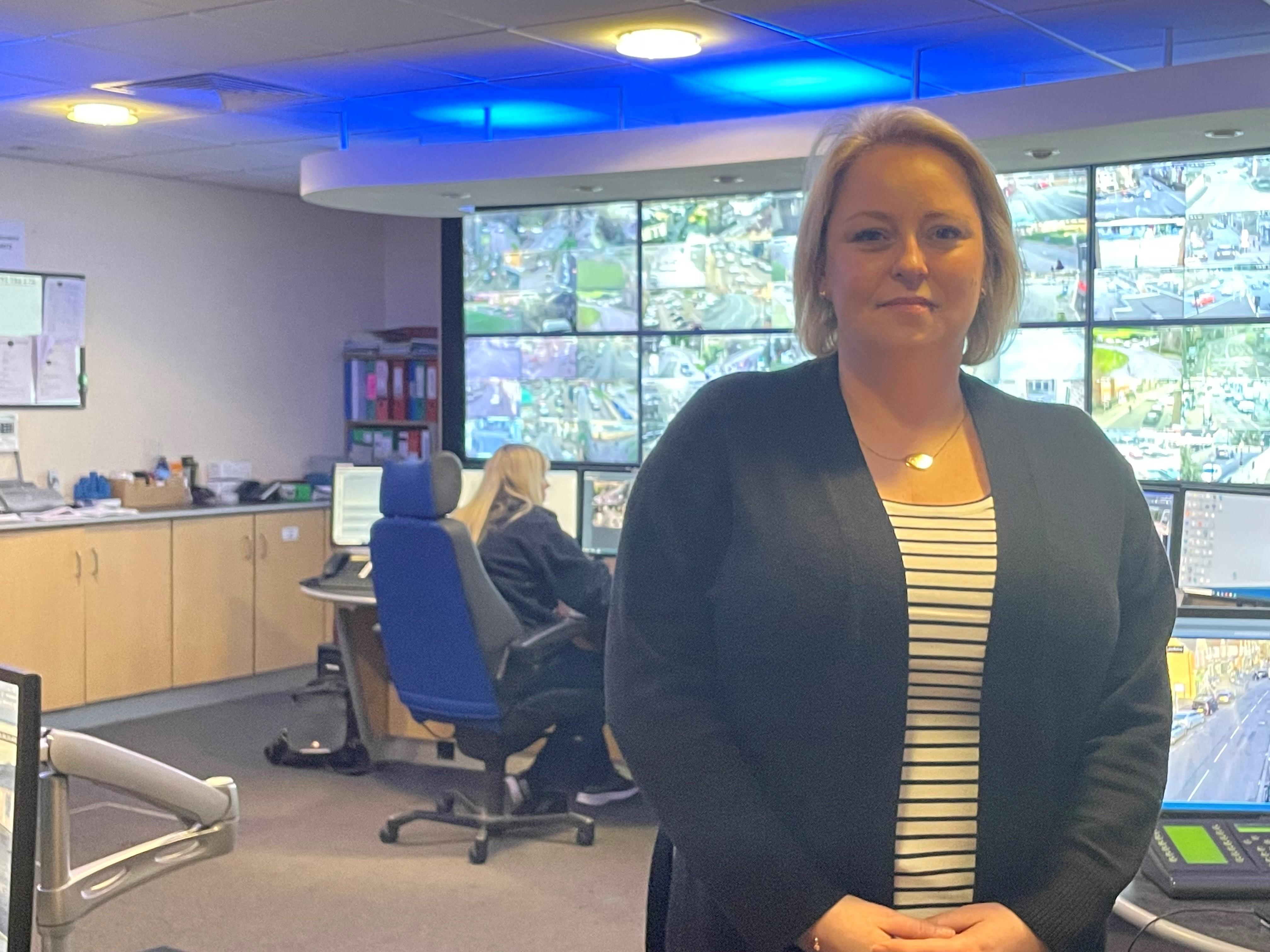 Police and Crime Commissioner for Surrey, Lisa Townsend, recently paid a visit to the Safer Runnymede control centre at the Council's offices in Addlestone.
The Council-run CCTV network supports Police to prevent crimes and responds to approximately 7,000 incidents a year. There are more than 500 CCTV cameras which feed into the hub.
The cameras are located across every town in Runnymede as well as at other locations including, in partnership with St Peters Hospital and across Spelthorne Borough, helping to provide community safety for residents and visitors 24 hours a day, 365 days a year
CCTV is an important resource used to gather evidence against crime and bring justice. It enables easier detection of offenders, saves police valuable time and may free witnesses from the potential trauma of giving statements.
Commissioner Lisa Townsend, who is also the Association of Police and Crime Commissioner's National Lead on Mental Health and Custody, said: "Having seen Safer Runnymede in action its clear to see how the service supports the local community and the work of Surrey Police."
The Safer Runnymede care and control centre, also supports many of Surrey's most vulnerable residents. In the past year, the team have taken roughly 45,000 Careline Calls, as part of the Council's community alarms service.
The personal alarm service provides emergency assistance, support, and reassurance for those wishing to continue to live independently at home. In addition, Safer Runnymede also handled 21,000 out-of-hours support calls in 2021.
Commissioner Lisa Townsend added: "The network of CCTV cameras helps to not only prevent and respond to crime, but it also helps to protect and support the wellbeing of our most vulnerable residents and to deter antisocial behaviour".

"Surrey Police receive an average of seven reports of missing persons every day. CCTV plays a key role in the response we provide to keep these individuals are others safe".
It also supports residents of Runnymede to access key services such as housing and housing maintenance, outside of our core business hours, through providing an out of hours service. This is a service also provided to neighbouring authorities.
Cllr Chris Howorth, Chair of the Community Services Committee, said: "I am extremely proud of our Council-run Safer Runnymede service, which helps us to tackle crime and reports of anti-social behaviour, such as graffiti and fly-tipping".

"Safer Runnymede hopes to continue to work in partnership with Surrey Police and with other Council partners in the future, in the further development of CCTV provision in Surrey".
The network also includes mobile CCTV cameras that can be deployed at strategic locations across Runnymede and Spelthorne, under license from Surrey County Council. Transportable CCTV cameras have been a key tool in tackling anti-social behaviour.
The CCTV work performed by Runnymede has been accredited by the National Security Inspectorate as complying with its code of practice launched in November 2015.
The network is one of just five per cent of systems in the UK awarded a top rating by the Government's Surveillance Camera Commissioner.
Help us improve this website
Let us know if you find any spelling mistakes, inaccuracies or broken links by using this form. If you provide an email address we will only use it to provide an update if required.
To get in touch about a service we provide use the contact us form.