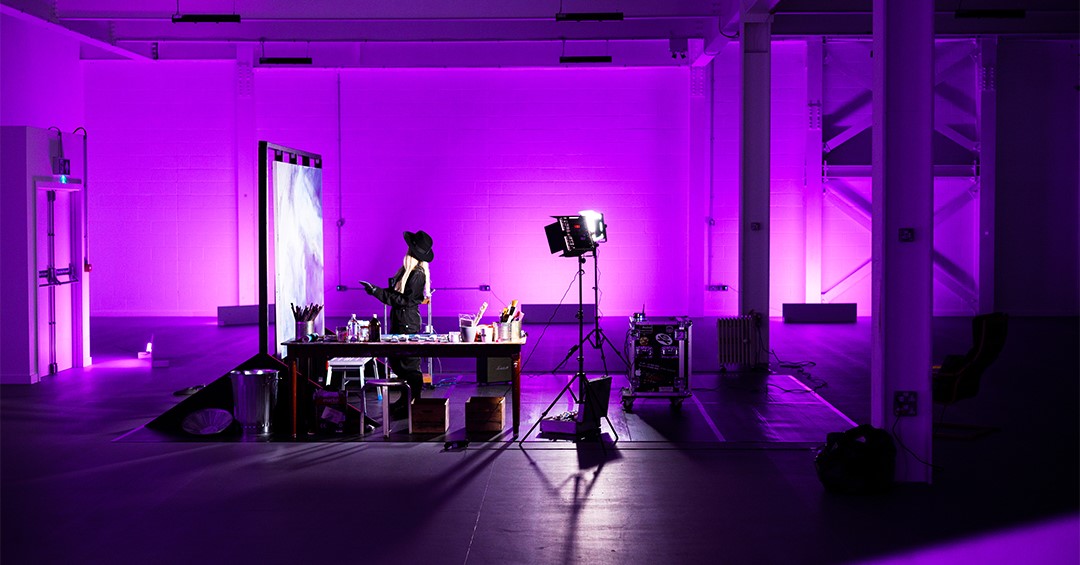 Last month, Runnymede Borough Council, Addlestone One and renowned artist Emma-Leone Palmer, partnered to launch LUX.
The interactive art installation was a huge success, with more than 300 people in attendance across the 21, 22 and 23 October.
Emma-Leone Palmer worked alongside production company Reel Craft, to bring residents a never-before-seen, month-long immersive experience. Together, they worked to create a pop-up inside a 6,000 sq ft retail unit at Addlestone One.
Throughout October, she created one of her largest oil paintings to date, using the latest LED technology and motion capture techniques to change the colour of the space in reaction to her movement as she painted.
The public were able to experience the event first-hand through series of free open events. Emma welcomed attendees across the three days, answering questions and painting live so visitors could encounter the changing multi-coloured lights and feel the depth and intricacies of her art.
Cllr Nick Prescot, leader of the council, said: "We're proud to have been able to support local people by hosting a vibrant and dynamic art installation in the centre of Addlestone, which proved to be a culturally interesting talking point for the community."

"The event was really well received and ended up being oversubscribed. We even added extra tickets to keep up with the demand."

"Encouraging residents back into our town centres is a key focus for the Council and LUX played a huge part in helping us to achieve that, supporting local businesses and improving our economy in the process. We want to thank Emma for her help in making the event such a huge success."
A series of private Q&A sessions were also held for local students from Brooklands College, Jubilee High School, and St. George's, where they were given the opportunity to ask Emma about her career and for advice on becoming a successful artist.
Emma-Leone Palmer said: "It was an honour to be able to partner with the Council and Addlestone One to bring LUX to life. I've thoroughly enjoyed working with Reel Craft to create a unique and different experience for the local community."

"It was inspiring to be able to share my art directly with the public and I especially enjoyed welcoming students from local schools, answering their questions during dedicated Q&A sessions."
Ron Melia, Addlestone One Centre Manager, said: "It was exciting to try something new at Addlestone One, attracting visitors in the process. In just a few weeks' time, we are set to welcome 14 stall holders for our pop-up Christmas Market. They will take space in the retail unit as part of the Addlestone Festive Fayre. I encourage residents to head into town to enjoy the festive fun."
To keep-up to date with Addlestone One's upcoming events and activities follow-on Instagram, Facebook or Twitter.
Help us improve this website
Let us know if you find any spelling mistakes, inaccuracies or broken links by using this form. If you provide an email address we will only use it to provide an update if required.
To get in touch about a service we provide use the contact us form.