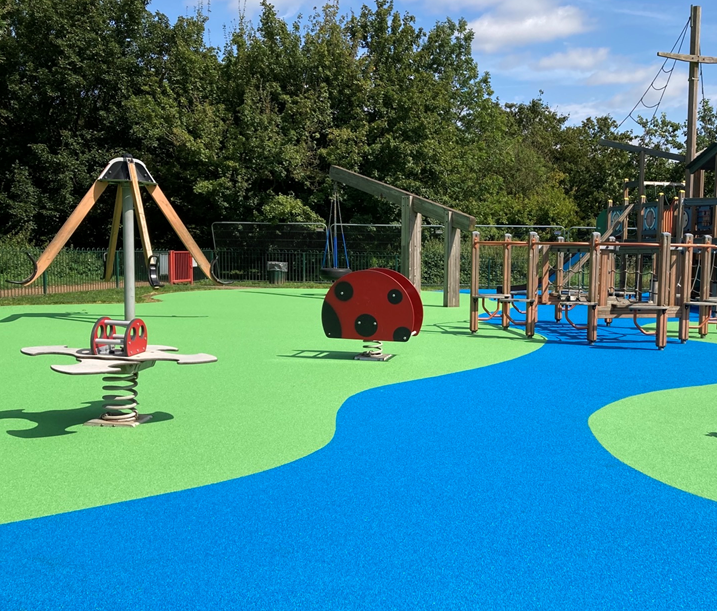 Chertsey Meads is a large meadow with a modern playground and two picnic areas overlooking the River Thames. This open space is perfect for weekend family visits, days out and dog walking.
The popular playground is recognised for its pirate ship play area which has just been refurbished and where imaginations can run wild. Further into the site, the picnic areas by the river are a relaxing place to take a break on a walk whilst watching boats, swans and ducks pass by.
Chertsey Meads is also classified as one of the 70 Suitable Alternative Natural Green Spaces (SANG) in the region. SANGs provide a natural environment for recreation away from the Thames Basin Heaths Special Protection Areas. Wildlife includes over 400 species of plants and 40 species of birds.
Runnymede Borough Council is committed to supporting local people and enhancing the environment and we maintain certain parts of the meadow and grass on a seasonal basis to benefit visitors, whilst allowing the majority of the meadow to grow naturally to provide a wonderful display of flowers in the summer.
The Council has recently produced a leaflet visitors can collect when arriving at the meads. This is a great resource for both new and regular visitors containing a map of the site so you can explore the vast biodiversity via the suggested trails and, fun facts and other information on the environment you will find here.
Join the liason group
Chertsey Meads is managed by Runnymede Borough Council and the Chertsey Meads Management Liaison Group. We have vacancies on the liaison group for local people who regularly visit the meads to walk their dogs, ride horses, or are a member of the Environment Agency, Surrey Bird Club or the Conservation Volunteers.
The group meets twice a year and there is an annual guided site visit and other events such as litter picking and other conservation works to preserve the Meads for our community.
► Please contact openspace@runnymede.gov.uk or call 01932 425689 to talk to Chris Dulley if you are interested in joining the group.
Visit Chertsey Meads
The site is easily accessed by car, bicycle or on foot and has two free car parking sites. The address is Chertsey Meads, Mead Lane, Chertsey, KT16 8LN
To read more on Chertsey Meads, pick up a flyer on your next visit located at the information boards in each car park.
► For more information on the parks in our borough, visit: www.runnymede.gov.uk/parksandopenspaces
Help us improve this website
Let us know if you find any spelling mistakes, inaccuracies or broken links by using this form.
To get in touch about a service we provide use the contact us form.