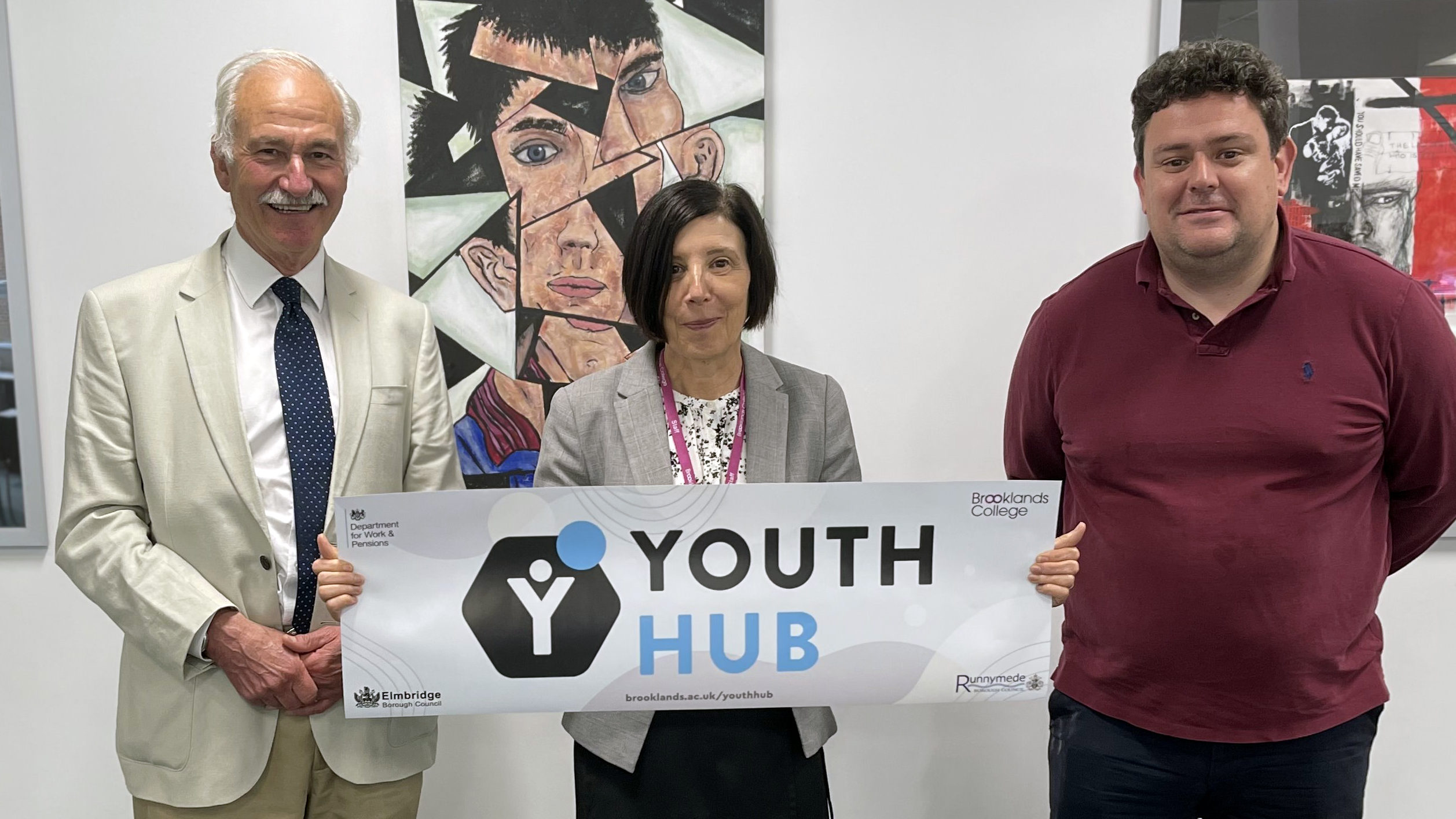 We are pleased to announce the launch of a new Youth Hub which will provide expert support for young people aged 18-24.
Runnymede Borough Council, Elmbridge Borough Council and Brooklands College will work together to run the Youth Hub helping youngsters to secure employment or training.
Whether it's getting a foot on the job ladder and securing your first role, finding out more about a new sector, or matching the right course to your dream job - the Youth Hub experts will be on hand to help find you the right opportunities.
The Youth Hub will be based out of Brooklands College in Weybridge with additional venues at St John's Egham and the Addlestone Community Centre, providing a one-stop shop to help you with advice, work experience, mentoring and much, much more. Our partnership with the college, businesses, and Job Centre Plus can help you get on if you are looking for work, thinking about next steps after school or college, or unsure where to go next.
All support is free of charge to 18–24-year-olds in Runnymede and Elmbridge with £71,000 of funding provided through the Department of Work and Pension`s Flexible Support Fund, following a successful joint bid by both Borough Council's earlier this year.
In addition, the hub will receive a further £45,000 in financial backing from the Council's and local organisations.
Councillor Nick Prescot, Leader of Runnymede Borough Council said "I would encourage as many young people aged 18-24 from across Runnymede and Elmbridge to get in touch and see how the Youth Hub can help. The expert support can be accessed at three local locations including St John's Egham, the Addlestone Community Centre and Brooklands College in Weybridge."

The hub will be open Monday to Friday, from October and is completely free of charge. The support is tailored to you and your ambitions and can help you achieve your future goals."
Councillor Chris Sadler,Leader of Elmbridge Borough Council said "The Covid-19 pandemic has had a huge impact on young people and the opportunities available to them. The Youth Hub is a chance to get the right help to consider a new role, find a placement, work experience or training as we do all we can to help our residents and businesses recover from the pandemic."
Christine Ricketts, Principal of Brooklands College said "We are pleased to host the Youth Hub at Brooklands College. We have a wealth of experience of working with young people to connect them into the right courses, apprenticeships, and businesses. The hub will be working with businesses from across the area so we can offer valuable experience and training to help you get ahead.
Gemma Newar, Partnership Manager, Department for Work and Pensions said "The Youth Hubs we have funded are a great addition to our offer to young people across the area. From kickstart placements, traineeships, apprenticeships and expert support from our work coaches and youth hubs we can help connect you to the right opportunity to get you into employment or training. Please do get in touch and see how we can help"
If you are interested in accessing the free expert support, please contact the youth hub via email:youthhub@brooklands.ac.uk
Help us to improve this website
Use this form to provide feedback on this webpage. Don't use it to contact us about a service or make a complaint. We will not reply, even if you include personal details such as your name and address.