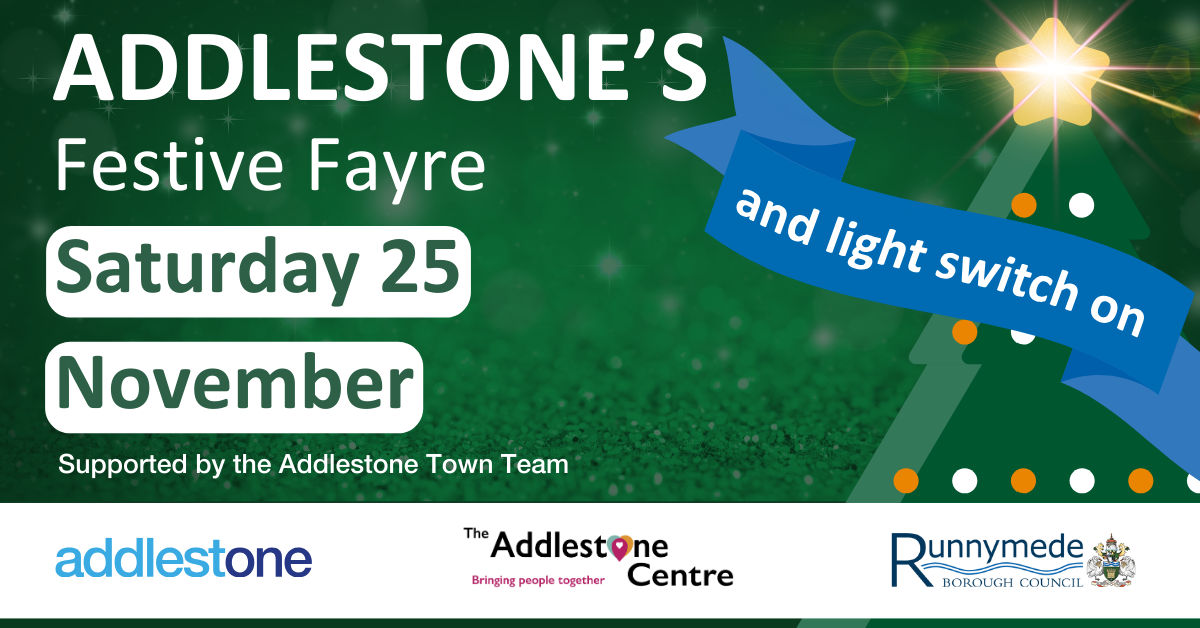 It's time to gather family and friends and launch into the Christmas season at this year's Addlestone Festive Fayre!
Taking place on Saturday 25 November it promises to be bigger and better – with craft and food markets, kids entertainment, carols and of course the light switch on with the Mayor, and a touch of comic con, with Runnymede's own Doctor Strange.
From 10am to 4pm The Addlestone Centre in Garfield Road will host a pop-up Christmas Gift Market with a selection of local businesses selling everything from candles to handmade jewellery and toys.
From 12pm to 4pm see, taste and smell what culinary delights are on offer at the Christmas food market outside the Civic Centre on Station Road.
From 2.30pm to 6.30pm The Lane in Addlestone One will become centre stage with live entertainment and activities, refreshments and food tasters, carols from local choirs - all this leading up to the main event of the Christmas lights switch-on at 5.45pm.
Cllr Chris Howorth, Chair of the Council's Community Services Committee, said:
Addlestone's Festive Fayre has become a firm fixture in the local calendar, and this year's is set to not disappoint!

There will be plenty of fun from the live entertainment, and a chance to start your Christmas shopping at the gift and food markets.

It's also a great opportunity to enjoy the local shops, restaurants, and cafes. You could even take in a film at The Light or test out some of the newest trends in hybrid football at KickX.
The Festive Fayre, now in its third year, is organised by Runnymede Borough Council to support local businesses as part of its Economic Development Strategy, and to bring residents together at the start of the festive season.
Help us improve this website
Let us know if you find any spelling mistakes, inaccuracies or broken links by using this form. If you provide an email address we will only use it to provide an update if required.
To get in touch about a service we provide use the general enquiries form.
Did you find this page useful