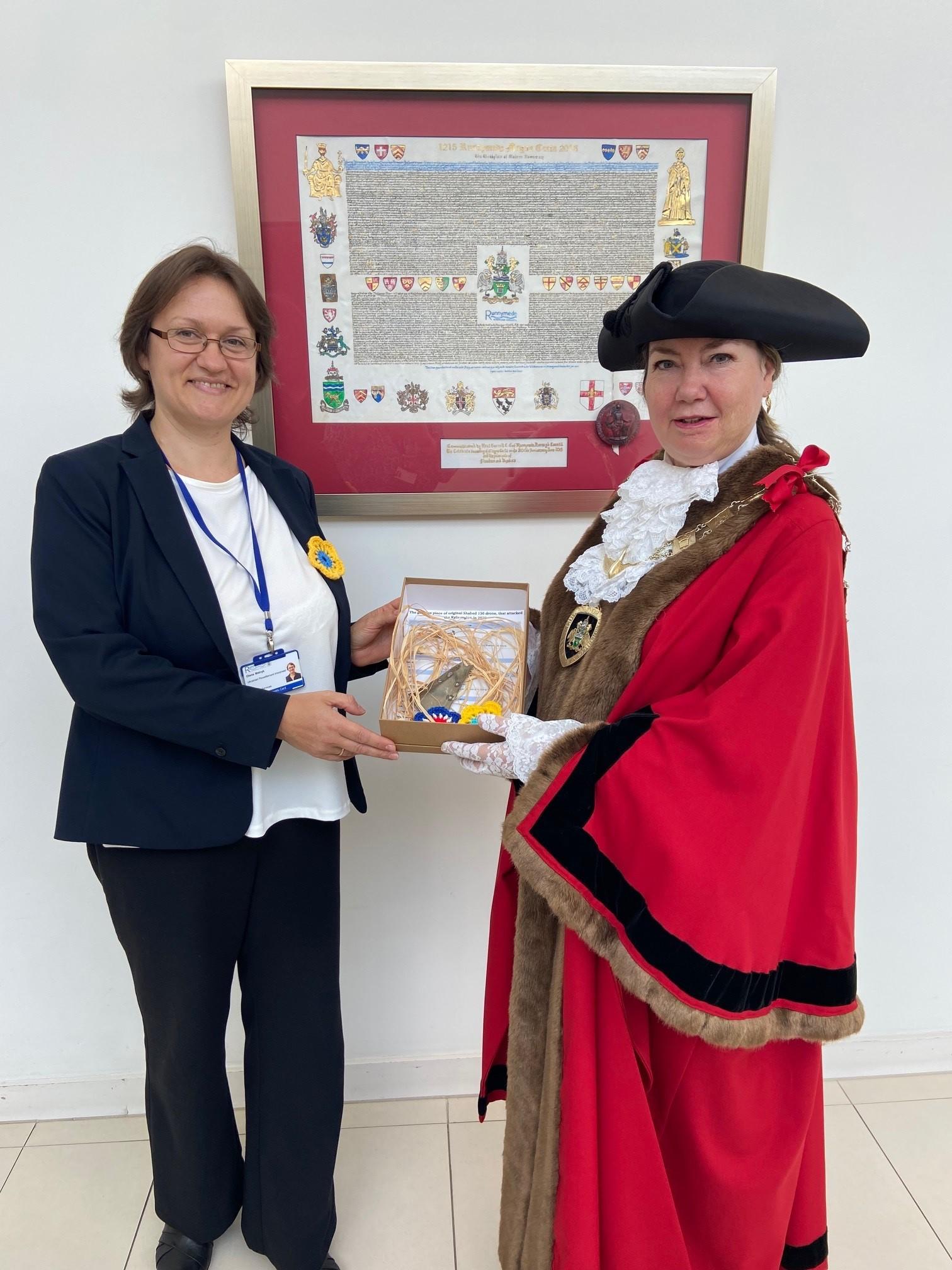 A shard of metal blown off of a Russian drone as it was shot down over Ukraine has been presented to the Mayor of Runnymede during Armed Forces Week.
The momento was presented as a thank you for the support which the Borough and the UK as a whole have given to families displaced by the war.
It was handed over by Olena Melnyk, a Ukrainian national now employed as a Ukrainian resettlement interpreter by Runnymede Borough Council. Her husband Oleh joined the Ukrainian Armed Forces in April 2022 and is serving in a radar reconnaissance platoon, part of an anti-aircraft missile artillery battalion, within a presidential brigade. In this he is protecting civilians from constant attacks of drones and missiles of different types.
Mrs Melnyk said:
My husband Oleh passed me the genuine piece of Shahed 136 drone, that attacked the Kyiv region in 2022, which we want to stay in Runnymede Borough Council as a reminder of true values of life, friendship, support and that all Ukrainian people are extremely grateful for British people, communities, and government for standing with Ukraine.
Cllr Shannon Saise-Marshall, Mayor of Runnymede, said:
I am absolutely humbled to receive this gift. To think that in the middle of a war a soldier would take the time to send this through to his wife to pass on to the Council is very touching.


I wish all the best of luck to every member of the Ukrainian military fighting for their country's freedom and I'm glad our Borough has been able to offer homes and peace of mind to their families.
Mrs Melnyk and her two children came to Surrey through the Government Homes for Ukraine scheme last year. Since it launched, 200 Ukrainians have been found homes in Runnymede. There are currently 52 families made up of 85 people living in Runnymede who have come to the area through the scheme.
They are being housed by 52 local people have volunteered to open their homes and provide a welcome. Hosts receive a payment and if relevant their single person discount for Council Tax is not affected.
Mrs Melnyk added:
Being a refugee myself, fleeing the war in Ukraine with two children, I feel huge support from my sponsors and true friends Helen Wilson and David Morton, all my team, as well as from all British people who support Ukrainians in the hardest period in our lives.


Runnymede Borough Council is helping all Ukrainian guests and sponsors and supporting them in all kinds of issues. All our guests and sponsors are enormously grateful to Runnymede Borough Council for its help with making homes ready to host guests, applying for documents, enrolling in English language courses, finding employment, schooling, applying for benefit and pension programmes, rematching to new homes, helping to move to private rental sector etc.


Runnymede created friendly atmosphere for Ukrainian guests and sponsors, who are free to share all their problems and have confidence that they will receive the best addressed support that can be provided.
Help us improve this website
Let us know if you find any spelling mistakes, inaccuracies or broken links by using this form. If you provide an email address we will only use it to provide an update if required.
To get in touch about a service we provide use the general enquiries form.
Did you find this page useful