The borough crest
The Borough's crest picks up the themes of the great charter - the Crown, the Church represented through Chertsey Abbey, the Royal swans, the green of the meadows where the Magna Carta was sealed and the blue of the River Thames. They are brought together in the Borough's motto, "In Freedom, We Serve".
In heraldic terms, the armorial bearings amalgamate the arms granted to the former Chertsey and Egham urban district councils, and the motto - "In freedom we serve" combines the ideas from Egham's "Ut homines liberi sint" (That men might be free) and Chertsey's "Servire contendimus" (We strive to serve).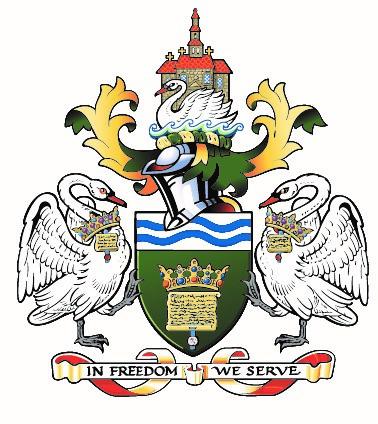 The crest is a ceremonial emblem of the Council and is an integral part of our logo. The formal description of the crest is
ARMS: Vert, a representation of Magna Carta, ensigned by a representation of the Crown of King John proper, on a Chief Argent, two barrulets wavy azure.
CREST: On a wreath Or and Vert, upon waves in front of a representation of Chertsey Abbey, a swan, all proper.
BADGE: Upon a fountain in front of a representation of Chertsey Abbey, a swan statant proper.
SUPPORTERS: On either side a swan gorged with a Crown as in the Arms, pendent therefrom by a ribbon azure a representation of Magna Carta proper.
MOTTO: In Freedom We Serve.
Help us improve this website
Let us know if you find any spelling mistakes, inaccuracies or broken links by using this form. If you provide an email address we will only use it to provide an update if required.
To get in touch about a service we provide use the contact us form.
Did you find this page useful