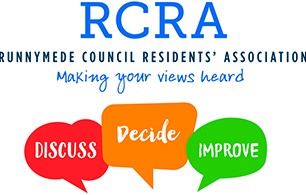 The Runnymede Council Residents' Association is a local group made up of local resident who represent the interests of every tenant living in Runnymede.
A collective voice is a powerful voice. Being united with other people who share your experience as a Runnymede Borough Council tenant means that you have the opportunity to influence and shape the quality of the services your local community receive and improve residents' quality of life.
Together we can
have a say on the services provided by RBC such as cleaning and repairs
develop the environment and community, for example social activities or safe play areas
identify areas that need the council's attention, for example improved lighting
Any tenants or leaseholder of Runnymede Council is welcome to be a member of the RCRA. To join simply email Jenny Hill on R.C.R.A@hotmail.co.uk or call on 01932 568405 or 07811863565
If you do not want to join but would still like to keep up to date with tenant news and information, follow us on social media
Help us improve this website
Let us know if you find any spelling mistakes, inaccuracies or broken links by using this form. If you provide an email address we will only use it to provide an update if required.
To get in touch about a service we provide use the contact us form.
Did you find this page useful